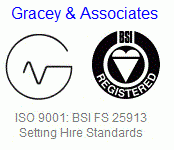 There are many BS, ISO and IEC Standards relating to acoustic instruments and measurement procedures. European Harmonisation also means that some standards are being renumbered and others upgraded, giving rise to BS, BS ISO, BS EN and BS EN ISO numbering systems which can be confusing.
So we have produced a simple numerical list for relevant British Standards below. To see the 'full numbering details', current status and ISO equivalent information, click a number below. We have a similar list for
International Standards
.
---
BSI - Sound and Vibration Standards
---
BSI publications are copyright so we cannot reproduce them in full.
Some standards relate to measurement procedures and some to the instrument parameters and accuracy. The information in our instrument descriptions is taken from the manufacturer's literature, so cannot reflect any subsequent BSI changes. On the other hand we can keep the above standards information up to date.
We have not included audiometers, acoustic emission, condition monitoring, ear defenders, hydrophones or underwater acoustics.
When standards are withdrawn we keep them for a while. However it is not practical to keep then 'for ever'. When a standard is removed and a visitor has book marked it on their PC they get a 'Not Found' message. We have started a redirect service so instead of this message you are redirected to this page where you can see the current list of standards and our
Site Search
to find the alternative(s).
E&OE. If you find any errors or omissions please let us know, so we can correct them
---
This site is maintained by
Gracey & Associates 01234 708835 e-mail
The sound and vibration instrument hire and calibration specialists
Home
l
Manufacturers
l
Applications
l
Instrument Search
l
Glossary
If you find our site helpful please add a link to us from your web site, it really will help us and other visitors
-
here's how